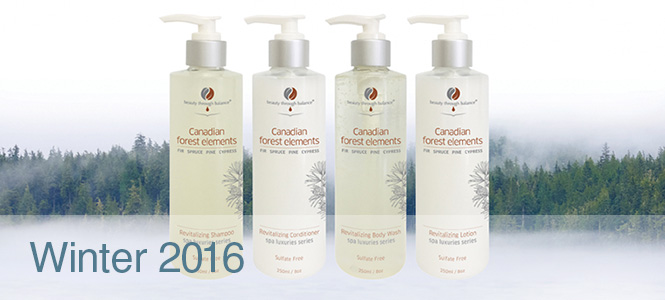 Spa Luxuries Series
The newest addition to our Beauty Through Balance spa line is the Spa Luxuries Series. This series of products Feature the most natural spa amenity products in the industry – Shampoo, Conditioner, Body Wash & Lotion. The program includes bulk product & branded high quality fixture units for spa showers/change rooms along with Home care/retail.

The products incorporate pure Canadian Forest Elements including Spruce Hemlock, Fir Balsam, Fir Needle, Cypress, & Pine.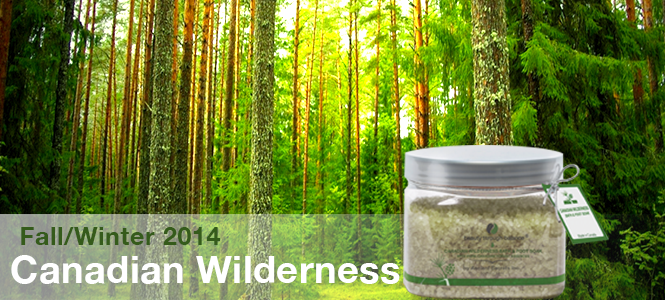 Canadian Wilderness Bath & Foot Soak
We are pleased to announce the launch of our Canadian Wilderness Bath & Foot Soak. This product captures the essence of the lush Canadian forests through pure essential oils infused including Fir Balsam, Fir Needle, Spruce Hemlock & Pine. Mineral Salts along with Macrocystis Integrifolia Pacific Kelp from BC's Northern Coast and French Green Clay are also part of this therapeutic formula which help to support the immune system, address body aches/pains , offer tranquility and a sense of connection to nature.
Our new Mineral Boost Restorative products feature the following key ingredients:
Hand harvested raw Pacific Seaweed & Canadian Glacial Clay from the Northern BC Coast of Canada. Rich in micronutrients and minerals to revitalize the skin.
Patented Anti-aging ingredients from France: Renovage & Matrixyl(peptide) – Proven to effectively target fine lines, brighten skin complexion, address loss of collagen and elastin.
Vitamin C – Pure stable form of Vitamin C offers natural anti-oxidant benefits
Hyaluronic Acid -  Works to draw moisture into the skin thereby restoring hydration levels leaving skin looking and feeling more youthful
Mineral Boost Restorative Mask
Best for normal to dry, mature, combination,  and most sensitive skin types.  Has been shown to be beneficial to heal acne breakouts and detoxify the skin. Helps to restore balance, firm skin and target signs of age.
Mineral Boost Restorative Serum
Best for normal to dry, mature, combination,  and most sensitive skin types. Light refreshing serum that helps to brighten skin complexion , restore skin health and youthful properties.

Check out our online store availability here.